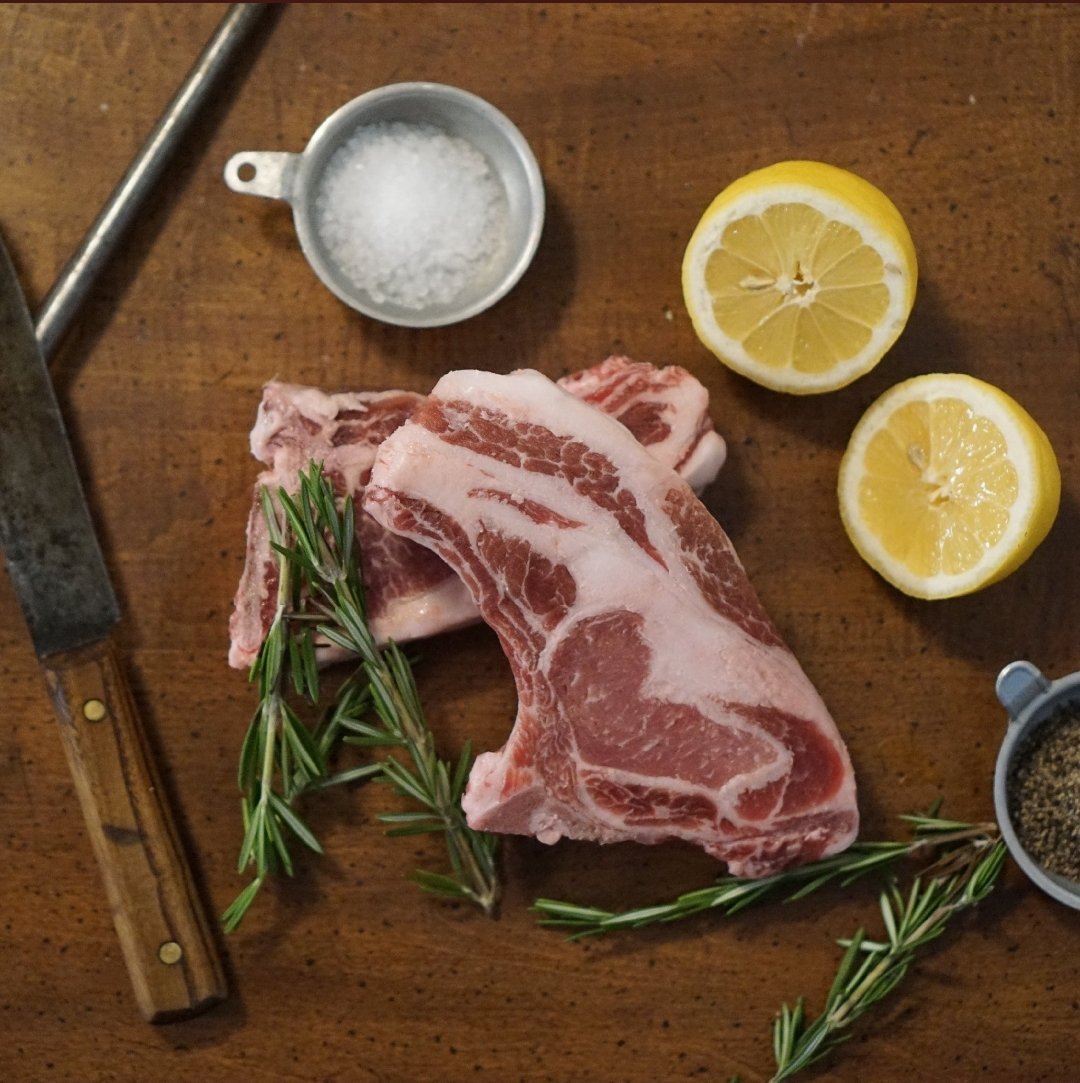 Everyone from the Wall Street Journal to the NY Times  knows that Mangalitsa is the best tasting pork in the world. What the world may not know, however, is the breadth and variety of Mangalitsa (sometimes called Mangalica) pork available. We raise Mangalitsa, sustainably, on a farm in Southeast Iowa. With every pig we butcher, we strive to ensure that we use every piece of the pig, from the bacon to the lard.
On our store, most every cut is available. Below, we highlight a few of our most popular options. We ship nationwide. 
Mangalitsa Pork Chops- Order Today
Our Iowa Cut Mangalitsa Pork chops don't look like grocery store pork-and frankly a visual inspection reveals that they look different from even great cuts of pork like Berkshire.  The magic of Mangalitsa is in both the marbling and the flavor profile. Mangalitsa flavor comes from genetics, and from how the pigs are raised. Our hogs grow slower, but convert feed to flavor in a way that traditional grocery store pork does not.  
Pork chops may be our most versatile cut. They can be grilled, sauteed, baked, roasted, sous vide'd the list goes on and on!
Mangalitsa Bratwurst-Click to Order
Bratwursts are a summer staple- they stem from Germany! Mangalitsa bratwursts retain the fat and flavor of Mangalitsa in a surprising way. In fact, I'd wager that the average layperson could tell the difference between a Mangalitsa and a regular bratwurst within three bites. 
We recommend brats for grilling, but they can also be boiled on the stovetop-sometimes in beer!
Mangalitsa Shoulder Roast -Click to Order
Shoulder Roasts are versatile, and can be used for everything from Pulled Pork to a succulent roast. 
We like to smoke our roasts over oak, but finishing them in the oven with a custom rub is very common amongst our customers as well. The Mangalitsa flavor profile really shines through. 
 Mangalitsa Bacon-Click to Order 
Everyone wants to know- how is the bacon? Well, we can confirm that it's dang good. Our bacon has a different flavor than what you traditionally buy in the store. It is slightly fattier feel that adds flavor without extra grease.  
For bacon, we recommend a traditional griddle or stovetop cooking experience. It's also terrific on burgers!
Mangalitsa Breakfast Sausage Links-Click to Order
Our Mangalitsa Breakfast Sausage is, just like our 1800s farm house, an American original. It is spicy and sweet at the same time, and a very common breakfast feature in our home. 
We recommend Mangalitsa Breakfast Sausage especially for special breakfasts, but also for camping. They hit different after a night under the stars!
Acorn Bluff Ground Pork - Order Now
Acorn Bluff ground pork can make an Iowa staple- Pork Burgers. We love to cook up a good pork burger on the grill with ground pork, it can be a perfect compliment 
If you can't make up your mind or it all looks great, a gift card or one of our nifty hats work too!