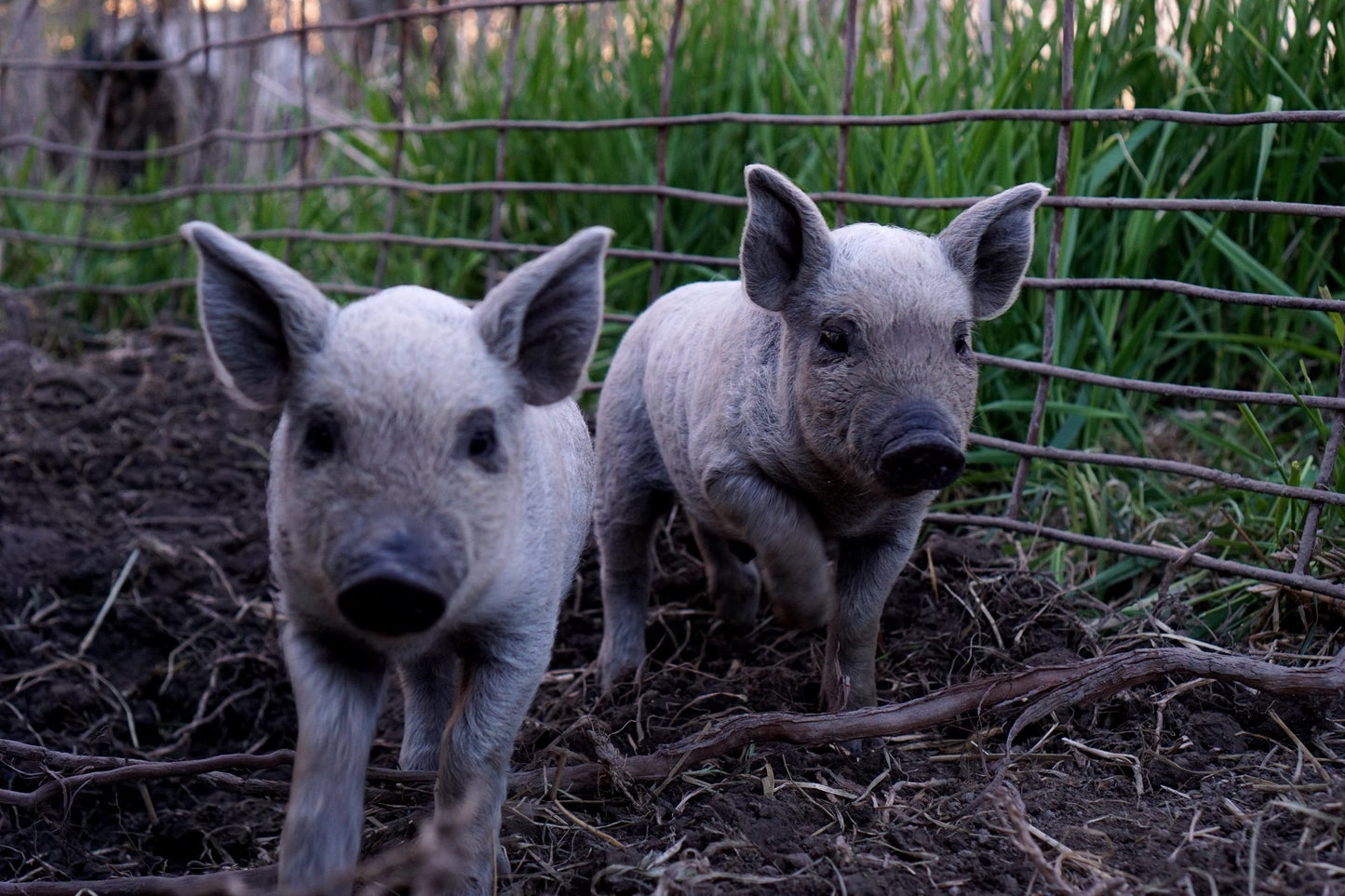 As demand for our world class Mangalitsa pork chops, bratwursts, hams, and other cuts has grown, Acorn Bluff Farms in Columbus Junction, Iowa has recently expanded into selling feeder Mangalitsa pigs throughout Iowa, Illinois, Minnesota, Missouri, Wisconsin, and Kansas. In 2021, we sold several, and in 2022, demand is only rising. Remember, health papers and following all applicable laws is important in transmitting young piglets.
We sell pure blood, pedigreed Mangalitsa that we purchased from our wonderful friends at 1936 Meadowbrook Farm in Benton Harbor, Michigan. As a reminder, Mangalitsa is the world' best tasting pork, bursting at the seams with a rich, intense pork flavor.
If interested, please email us at acornblufffarms (at) gmail.com or follow this link to send us an email
Mangalitsa piglets are known for their wooly, striped appearance that they eventually grow out of. Typically Mangalitsas are found in one of three colors-Blonde, Red, and Swallow Belly. We have all three featured amongst our stock, but blonde is the most common among our Mangalitsa feeder piglets and breeding stock.
They are gentle, friendly pigs that are popular to raise at home for your own eating, but also a soldi business proposition as demand for heritage pork that is bursting with real flavor rises.
If you are interested in getting started with Mangalitsa pork to raise or breed for yourself, please email for more information. We sell piglets twice a year, and are happy to walk through proper care, conditioning, and sales practices to give your Mangalitsa piglets a humane and sustainable quality of life.
Demand is skyrocketing, so please be patient and be prepared to sign up for a spot on our waitlist. In Southeast Iowa, we are a one day drive from all of Missouri, Illinois, Kansas, Wisconsin, Nebraska, Indiana, Michigan, and Minnesota, and a 2 day drive from Ohio, Arkansas, Oklahoma, Kentucky, Tennessee, and South Dakota.
If you'd like to sample some of the wares first, click here to order!